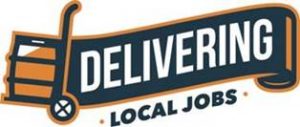 National Beer Wholesalers Association launches 'Delivering Local Jobs'; Tells story of independent beer distributors in North Carolina
Alexandria, VA – The National Beer Wholesalers Association (NBWA) today announced the launch of DeliveringLocalJobs.com, the centerpiece of a new public awareness effort highlighting the faces of the beer distribution industry – the 135,000 men and women who work as truck drivers, sales representatives, inventory specialists, graphic designers, receptionists and more quality, well-paying, career-track distribution jobs available in local communities, in all 50 states.
Altogether, those men and women earn $11.2 billion in wages and salaries, and they help generate:
$70 billion for the U.S. economy (GDP)
Nearly $180 million in community economic impacts (including support for charities and economic development)
Nearly $13 billion in tax revenue.
"The 'Delivering Local Jobs' website helps recognize the 135,000 beer distribution employees who are the engines behind the American beer industry," said NBWA President and CEO Craig Purser. "Beer distributors may be best known for driving beer trucks down local streets delivering fresh beer to stores, restaurants and pubs, but they are doing more than keeping store shelves stocked and taps flowing – they also are building beer brands, generating unprecedented consumer choice and boosting local economies from coast to coast."
The new website uses a wide range of videos and individual stories to put a face on the men and women of the beer distribution industry. The first video on the website, The Face of the Beer Distribution Industry, shows more than 30 distribution employees from across the country who work in a wide range of jobs. Other highlights of the website include:
The distributor employees highlighted on the website work with more than 5,000 brewers and importers to help build brands – large and small, well-known and brand new, from around the corner and from around the world.
The website will serve as a resource for industry leaders, state and local elected officials and media representatives across the country.
For more information, please visit www.DeliveringLocalJobs.com.